392 pages
Published October 1st 2006 by Luna
"Living is a risk," I snapped at him. "Every decision, every interaction, every step, every time you get out of bed in the morning, you take a risk. To survive is to know you're taking that risk and to not get out of bed clutching illusions of safety."
YOU KNOW YOUR LIFE IS BAD WHEN YOU MISS YOUR DAYS AS A POISON TASTER...
With her greatest enemy dead, and on her way to be reunited with the family she'd been stolen from long ago, Yelena should be pleased. But though she has gained her freedom, she can't help feeling isolated in Sitia. Her Ixian background has changed her in many ways—and her newfound friends and relatives don't think it's for the better....
Despite the turmoil, she's eager to start her magic training—especially as she's been given one year to harness her power or be put to death. But her plans take a radical turn when she becomes involved with a plot to reclaim Ixia's throne for a lost prince—and gets entangled in powerful rivalries with her fellow magicians.
If that wasn't bad enough, it appears her brother would love to see her dead. Luckily, Yelena has some old friends to help her with all her new enemies
…
My Review
"I'd wish you luck, but I don't think it would help,"
"Why not?"
"My lady, you make your own luck."
There's this feeling that one gets after reading an absolutely mind blowing 2nd book in a series they have high hopes for. I call it bliss! The utter satisfaction of discovering a book series that you won't abandon and new characters to fangirl over is almost indescribable.
Where Poison Study wowed me, Magic Study just took up all its awesomeness and multiplied it two fold. Yelena is back with a bang in the strange and mysterious world of Sitia, far away from Valek, Ari, Janco and the comfort of the north. She embarks on a perilous journey to find her magical prowess with Irys, her instructor. Along the way she gets reacquainted with her family- her adorable parents who accept her with open arms and her douchebag brother who is convinced that she's a northern spy.
Yelena's talent for trouble also resurfaces and she unearths a heinous plot by a group of barbaric psychopaths who are incidentally very powerful magicians planning to take control over the world. As Yelena tracks down a string of brutal murders, Snyder once again weaves an enchanting plot that had me devouring the book in one go.
Plot intricacy?
Perfect! There was action, family drama, romance, some engrossing world building and best of all- unpredictability.
Characters?
Oh Yelena, how I love thee? She is everything I love in a YA heroine- strong, independent, impulsive, formidable and dangerous. Valek, Ari and Janco make a reappearance. There are also some new supporting characters who are delicately layered in shades of grey.
Hotness Quotient?
"When I carved this, my thoughts were on you, love. Your life is like this snake's coils. No matter how many turns it makes, you'll end up back where you belong. With me."
Sizzling of course! Although Valek doesn't appear until much later in the book, the limited pages he does occupy are a treat. We get to see a more playful and less reserved side of him along with his usual dangerous and purposeful one. I have to admit I had a hard time deciding which one was more desirable.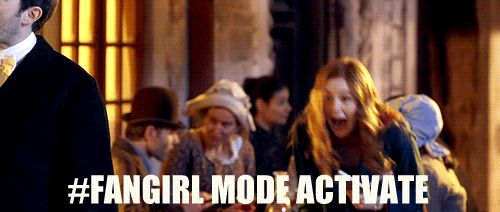 The chemistry between Yelena and Valek is absolutely scorching and they were adorably cute together.
"He made a weak attempt to look innocent, but I knew better.
"Should I guess how many concealed weapons you have or should I strip search you?"
"A strip search is the only way to be absolutely certain." Valek's deep blue eyes danced with delight."
Ending?
Not a cliffhanger, thank Merlin! I don't think I could have handled that. My need for the next book is urgent enough as it is.
Overall a perfect entertainer!
Highly recommended. Rating: 5/5 stars!