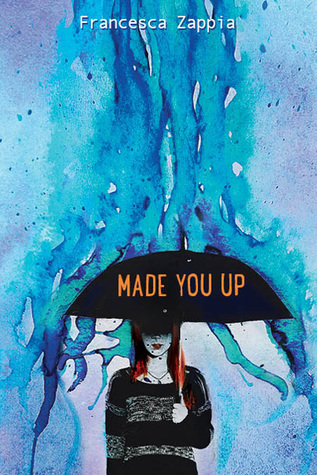 "Sometimes I think people take reality for granted."
Goodreads Synopsis
Reality, it turns out, is often not what you perceive it to be—sometimes, there really is someone out to get you. Made You Up tells the story of Alex, a high school senior unable to tell the difference between real life and delusion. This is a compelling and provoking literary debut that will appeal to fans of Wes Anderson,
Silver Linings Playbook
, and
Liar
.
Alex fights a daily battle to figure out the difference between reality and delusion. Armed with a take-no-prisoners attitude, her camera, a Magic 8-Ball, and her only ally (her little sister), Alex wages a war against her schizophrenia, determined to stay sane long enough to get into college. She's pretty optimistic about her chances until classes begin, and she runs into Miles. Didn't she imagine him? Before she knows it, Alex is making friends, going to parties, falling in love, and experiencing all the usual rites of passage for teenagers. But Alex is used to being crazy. She's not prepared for normal.
Funny, provoking, and ultimately moving, this debut novel featuring the quintessential unreliable narrator will have readers turning the pages and trying to figure out what is real and what is made up.
My Review
"I didn't have the luxury of taking reality for granted. And I wouldn't say I hated people who did, because that's just about everyone. I didn't hate them. They didn't live in my world.
But that never stopped me from wishing I lived in theirs."
I've always had a peculiar fascination with Schizophrenia.
How does it feel to be unable to distinguish between reality and imagination? How does one cope when the things they adore turn out to be non-corporeal, and just another figment of their mind's creations?
These questions hound my brain every time I encounter a book or a movie dealing with Schizophrenia; be it John Nash and his non-existent best friend in A Beautiful Mind, Bipasha Basu and her dreamed-up lover in Madhoshi, or poor Karthik who received phone calls from himself in Karthik Calling Karthik.
Francesca Zappia's debut novel deals with the disease in simple yet incredibly engaging way. The protagonist Alexandra Victoria Ridgemont (yeah....her parents were history enthusiasts) a.k.a Alex is a schizophrenic teenager about to start her senior year at a new school after being expelled from her previous school due to some incident, that was a result of just one of the many manifestations of her disease.
Alex was a delightful protagonist. Her small little quirks- like doing perimeter checks before entering any building, arguing with her self over what was real and what wasn't, her habit of clicking pictures to assure herself that her mind wasn't playing tricks on her, her enthusiasm for history and her adorable adorable impulsiveness- were absolutely relishing to read. It was a bittersweet experience to be inside her head, as she battled with the line between paranoid and crazy and fantasy and reality. I loved that despite of her disease she refused to take shit from anybody and was amazingly strong throughout the book.
"Was everything made up? Was this whole world inside my head? If I ever woke up from it, would I be inside a padded room somewhere, drooling all over myself?
Would I even be myself?"
The second extremely likeable, extremely flawed, yet extremely bewitching character was that of Miles James Richter. A total nerd at heart, a boy who "had a way with words", who knew the names of all the Aztec emperors, who played pranks on people for money....these are just some of the shades of the enigma that was Miles. He was the perfect YA hero. Except that it doesn't feel right to call him a hero. He was just Miles, a constant looming mystery that was unraveled bit by bit throughout the course of the book.
The development of Miles' and Alex's relationship was cute- no insta love and no cliche YA mush and cheese- just a sweet, gradual ascent into love.
"Mile's fingers pressed into the small of my back. "Basorexia," he mumbled.
"Gesundheit."
He laughed. "It's an overwhelming desire to kiss."
"I thought you weren't good at figuring out what you felt."
"I'm probably using the word in the wrong context. But I'm pretty sure that's what this is."
I loved all the secondary characters in the book- be it the bitchy Celia, the eccentric school principal, Alex's little sister Charlie and Alex's enchantingly diverse group of friends- everybody had their part to play in the book and the story didn't appear to be about just one person but about everybody.
The story was witty, engaging and unique in a way that made me realise that perhaps each of us has a bit of crazy inside our minds and it all narrows down to the definition of crazy that deemed one crazy.
"Einstein's definition of insanity is doing the same thing over and over again and expecting different results. I kept taking pictures, hoping I'd look at one and know its subject was a delusion. I did my perimeter checks, thinking I'd eventually be able to walk around paranoia-free. I spent every day hoping someone would tell me I smelled like lemons.
If I wasn't insane by anyone else's definition, I figured I was at least insane by Einstein."
Highly recommended. 4/5 stars!