The Grisha trilogy had been on my TBR forever. I read the spinoff- Six of Crows- first, and fell in love with Ms. Bardugo's fictional world of the Grisha and otkazat'sya alike. There was something terribly alluring about cunning conman Kaz Brekker and his crew of misfits. Their daring and perilous journey to pull of the greatest heist in the world, written in such an enchanting way, prompted me to finally give the Grisha trilogy a chance.
And boy, was that the best decision ever!
The trilogy was mindblowing in all senses of the word, with a richly woven story set in the backdrop of an elaborately crafted fantasy world, with all the ingredients of a perfect YA series chucked into it. There was nail biting action, unpredictable plot changes, subtle but toe curling romance, swoonworthy heroes, badass villains and a intriguing plot. There is so much I want to say about these books that it's almost impossible to decide where to begin! Starting from the beginning sounds like a good idea though.
So, this review will be in two parts. The first one will cover the first book in the series and the second one will be about the other two.
Book 1: Shadow and Bone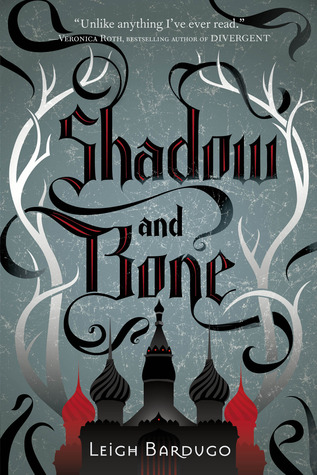 Published: June 5th 2012
Henry Holt and Co. (BYR)
Goodreads Synopsis
Surrounded by enemies, the once-great nation of Ravka has been torn in two by the Shadow Fold, a swath of near impenetrable darkness crawling with monsters who feast on human flesh. Now its fate may rest on the shoulders of one lonely refugee.
Alina Starkov has never been good at anything. But when her regiment is attacked on the Fold and her best friend is brutally injured, Alina reveals a dormant power that saves his life—a power that could be the key to setting her war-ravaged country free. Wrenched from everything she knows, Alina is whisked away to the royal court to be trained as a member of the Grisha, the magical elite led by the mysterious Darkling.
Yet nothing in this lavish world is what it seems. With darkness looming and an entire kingdom depending on her untamed power, Alina will have to confront the secrets of the Grisha . . . and the secrets of her heart.
Shadow and Bone is the first installment in Leigh Bardugo's Grisha Trilogy.
My Review
Starting off on a positive note...
Things I adored:


1. The concept of Grisha magic/The world building
"Everything in the world could be broken down into the same small parts. What looked like magic was really the Grisha manipulating matter at its most fundamental levels.
Marie didn't make fire. She summoned combustible elements in the air around us, and she still needed a flint to make the spark that would burn that fuel. Grisha steel wasn't endowed with magic, but by the skill of Fabrikators, who did not need heat or crude tools to manipulate metal."
Ms Bardugo came up with an interesting explanation for the existence of magic. It was quite possibly one of the most plausible magical theories I've read in fantasy books.
"The grounding principle of the Small Science was "like calls to like," but then it got complicated. Odinakovost was the "thisness" of a thing that made it the same as everything else. Etovost was the "thatness" of a thing that made it different from everything else. Odinakovost connected Grisha to the world, but it was etovost that gave them an affinity for something like air, or blood, or in my case, light. Around then, my head started swimming.
One thing did stand out to me: the word the philosophers used to describe people born without Grisha gifts, otkazat'sya, "the abandoned." It was another word for orphan."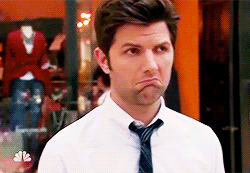 2. The Darkling
AAghh! For the love of droolworthy antagonists everywhere! The Darkling's character was so spot on- dark, dangerous, broody, shrouded in mystery, with a hidden softer side. Also, I cannot be the only one who thinks that the title- The Darkling- seems deliciously badass! He was an irresistibly hot mess of awesomeness. He's the kind of guy most sensible girls (including me) would shy away from in real life, and yet he makes the pages of the book come alive. It was impossible for me to hate on him or make way past his ruthless, shrewd and sexy avatar. A well deserved entry to the Book BFs list for sure!
"The problem with wanting," he whispered, his mouth trailing along my jaw until it hovered over my lips, "is that it makes us weak."
3. The Plot
A plot is to books what dessert is to a multiple course dinner. A book can have great characters or excellent writing style, but the presence of an intriguing plot is what makes it complete.
Shadow and Bone didn't disappoint in terms of story at all. Although the book started out slowly, it picked up pace somewhere near the middle with an unpredictable plot twist, and gave way to an excellent action-packed storyline.
Things that seemed meh:


1. Alina Starkov
It seems a like a big drawback for the protagonist of a book to be unlikeable. Fortunately, Alina Starkov was possibly the only major thing wrong with the book. She was whiny and needy. I understood that these traits stemmed from her upbringing as an orphan but having such low self esteem got real old real fast. She was kind of obsessed with her looks, always whining to herself about how very plain and unattractive she was. I also understood her desire to be cherished and loved, but her flitting from Mal to Darkling to Mal etc just made her seem fickle and impressionable.
2. Obsession with beauty
Now this is one thing that YA books are filled of. I won't lie; attractive characters do draw in the readers but there is a balance authors need to find to avoid making it look extremely repetitive. It seems highly unrealistic that every major character in the book has to be drop dead gorgeous. Imperfect characters with imperfect looks can also be very loveable indeed.
Shadow and Bone had too much emphasis on beauty- whether it be Grisha good looks fuelled by the use of their power or Mal's otkazat'sya magnificence. Even the protagonist, Alina, seemed hopelessly fixated on beauty as well.
Overall reaction:
But inspite of these little grievances, the book was a downright unputdownable treat from start to finish.
Highly recommended to all fantasy/fiction/romance lovers out there! Rating: 4/5 stars!
Book Trailer:
Look at this awesome book trailer with such a catchy soundtrack!
Comment about the fancast that you envision for the book!
I think that Theo James would make a wonderful Mal. Choosing the Darkling seems difficult though, because he's so irresistible in the books. And perhaps Chace Crawford as Nikolai?