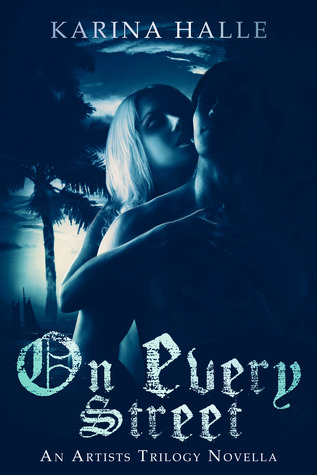 Published March 9th 2013
Metal Blonde Books
"You know," he began, voice low and full, "if you were to ever leave me, I'd come looking for you, on every street."
"You promise?"
"Always." And I knew he kept his promises."
Ques: Romantic or creepy?
GOODREADS SYNOPSIS
When young con artist Ellie Watt decides to call herself Eden White and go after the drug lord who ruined her as a child, she never expects to fall for one of his henchmen. But Javier Bernal is no ordinary man. Subtly dangerous and overwhelmingly seductive, Eden finds herself passionately in love with Javier, the very person she's set-up to betray. With her body and heart in a heated battle against her deep need for revenge, no one will walk away from this con a winner.
Takes place six years before Sins & Needles. It can be read before or after Sins & Needles and may also be read as a standalone.
MY REVIEW
"Any love that starts out under a lie is bound to kill you. I just didn't want to die on my feet."
I read the first book of the Artists Trilogy ie. Sins and Needles quite a while ago. It was a lot of fun as far as smutty action packed mafia romances go. I never got around to reading the sequels and it was only by chance that this novella showed up in my Goodreads feed... and I thought to myself 'What the hell! I'm in the mood for some morally questionable romance!' and I picked it up with almost zero expectations.
But it was just so addictive! I finished it in one seating flat. There's just something irresistible about forbidden love, isn't it? Also, there is a telltale feeling of doom right at the beginning of the book. You know things aren't going to end well. But Halle writes the romance so sexily, that you just can't help but root for the doomed couple. Ellie Watt, our favourite congirl from the Artist Trilogy is back in this book, set about six years prior to the first book (Sins and Needles). Although this one can be read as a standalone, it did explain a lot of stuff that was left unaccounted for in Sins and Needles. I completely got where Ellie's paranoia came from, Javier's obsession with finding Ellie, the whole background story about their supposed great romance and it's painful ending.
Also, Javier's character wasn't all that significant in Sins and Needles but we get a look at him now. And boy is he one hot son of a bitch! And I totally agree with Ellie when she says,
"He was a kinky motherfucker, that's for sure."
You'd think that all the foreplay talk he came up with would be cheesy or just plain gross, but sometimes it's hot as hell instead. Plus the whole aura of power he has, the knack of getting things done, passion almost bordering on violence... well I won't lie... it's SEXY! Then there are some instances when he actually shows a vulnerable side and then I just find myself melting into a big gooey puddle. He was a gentleman sometimes, he was downright animalistic a few seconds later. The personality switches were rapid and FUN!
Then there was Ellie. I liked how Halle writes her struggle so well. She's a novice as far as conning goes but she is determined to get vengeance from the man who ruined her life. She is a risk taker. She is headstrong. But what she didn't bargain for was Mr. Sex-On-Legs Javier Bernal. It was just so very human to see her desire for revenge crumbling in the face of new found love.
I loved the analogues with song lyrics, as is evident from the title of the book itself. I liked all the songs the author mentioned in the book. The sex was a bit over the top. That was probably what prompted me to knock off a star or two off the rating. But then stories with a lot of smut are just not my thing. But the romance was oh so good. The ending of course was heartbreaking and I feel like I need a Javier POV to straighten things out. **hint, hint** ;-)
A great, swift, hot read to warm you all over! Rating: 3.5/5 stars!
"Vengeance is a beast, you know. It can be tamed. I just stopped feeding it."